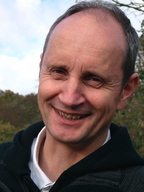 Practitioners
Mark Spiers, MRSS
Qualified practitionner of
Shiatsu

EFT

Chetana Chakra Therapy

My fascination about Healing began in 1995 when I first went to India and was instructed by K.T. Shubahckaran in Shubah Spiritual Healing. I then went on to study at the Shiatsu College London where I graduated in 2000. In 2001 I returned to India and was initiated in Chetana Chakra Therapy under the guidance of Dr. Kurup. It was fascinating for me to see how Dr. Kurup could help many people with serious chronicle illness and I was happy to have the great privilege to study with him.

I have since done postgraduate studies in shiatsu,and become an EFT practitioner.
Since 2002 I have helped many people with wide-rangeing conditions.

When we are ill or out of sorts, our body naturally wants to return to a place of wellness.
As a healer I aim to create a suitable environment for this to happen, a space for you to allow change.