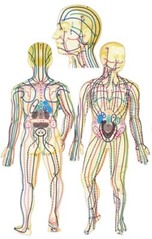 Shiatsu
Shiatsu is...
effective, invigorating, deep relaxation, a great peaceful feeling, calming , acupuncture without needles, exercise without effort.......
The Background to Shiatsu
Shiatsu is a unique stand-alone complementary therapy which is based on the principles of traditional chinese medicine.
It grew from earlier forms of oriental massage and was refined and further developed in Japan.
Shiatsu literally means "fingerpressure"- shi=finger/ atsu=pressure, although nowadays it is performed not only with the fingers but with the handpalms, sometimes feet, elbows or knees.
The Meridian System
The underlying philosophy of shiatsu is, that vital energy (Ki) flows throughout the body in specific energy channels (also called meridians).
Many different reasons, like excessive stress, shock, persistent emotional states of grief, fear, worry, over excitement, unhealthy diet or lack of exercise can cause blockages in this energy system.
The other way round, if the ki in the body flows freely, physical, mental and emotional blockages can be released.
An example:
You come to us with severe lower back pain, insomnia, and frequent headaches at the back of your head. We might find out in the diagnosis, that your bladder-meridian is out of balance and treat the whole meridian, running from your head alongside the spine down the back of the legs to the little toe.
You may find it already very releasing to get your stiff areas treated but additionally certain points, which can be far away from the original pain area, can influence the blockages which cause the pain.
How Shiatsu feels
Shiatsu is a very wholesome experience, your whole body is treated from head to toes; stretching and joint releasing techniques are part of the treatment.
The pressure that is given to your body can go deep, but is done without using physical force, either to press on the body or to move it.
The focus instead is on gravity and the relaxed use of the practitioners bodyweight to achieve pressure.
This special quality makes shiatsu so relaxing.
Where Shiatsu can help!
Generally we can say, there is no condition where shiatsu can`t be supporting and helpful.
You may use shiatsu to top up your batteries, as health prevention -how it is commonly used in
Japan-, as a lovely treat for yourself, or for different health conditions.
The most common conditions we treat are:
back problems, sciatica, whiplash,

sleeping problems, nervousness, emotional imbalances

burnout-syndrom, tiredness, feeling overstretched

women`s health issues eg. menopause, pregnancy, menstrual problems, postnatal problems

headaches, migranes

frequent colds, low immune-system, cough, asthma

digestive problems

tinnitus


Some "voices" of our clients:

"I could get my tights on without sitting the next morning"

"I slept through for the first time after 3 years."

"I feel like having had a warm bath"

"My upper legs and knees are warm now, instead of always being cold and clumsy"

"My child is still not sleeping through and I am still overtired but I have more optimism to
cope with it"

"I felt like all parts off my body where alive again. It felt amazing!"